UMW has a number of free resources that can help you with your digital projects. Here are a few.
Microsoft 365 Tools #
All UMW students, faculty, and staff have free access to Microsoft 365 products, both on the web and for installation on PC and Mac. Use this guide to access and install Microsoft products.
Zoom Pro #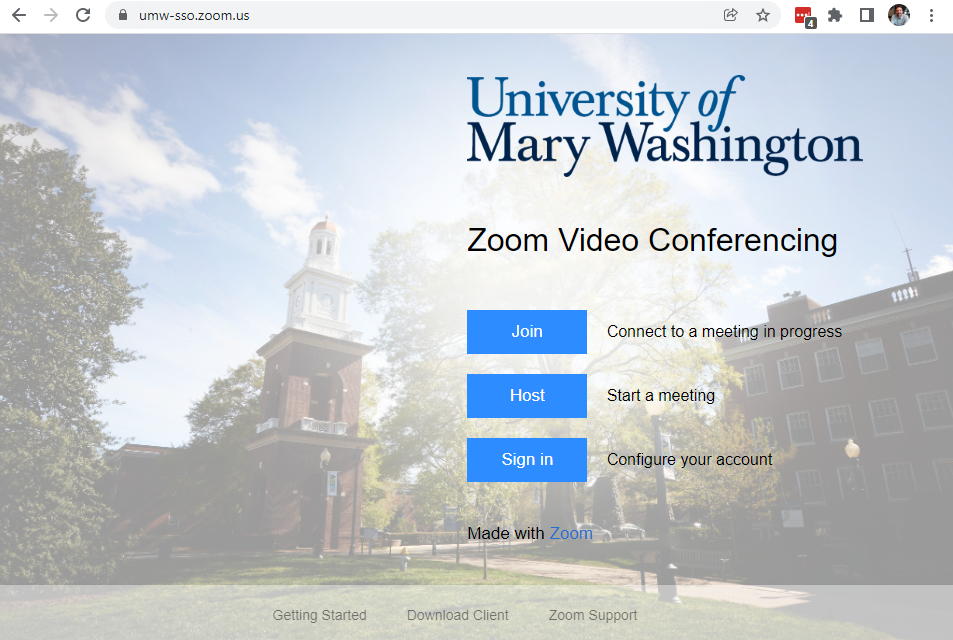 All UMW students, faculty, and staff have access to a Zoom Pro account, which offers premium features such as unlimited meeting length. Use this guide to activate and access your Zoom Pro account with your UMW email address.
AppsAnywhere #
AppsAnywhere is a free "virtual computer lab" that allows UMW students access to software (including ArcGIS, SPSS, and Adobe Creative Cloud) from anywhere with an internet connection without needing to purchase or install the software on their own computer. Log in with your UMW NetID and password and select the "HCC Lab" to access the Adobe suite and many other programs.
Charnoff Production Studio #
The Charnoff Production Studio is a video production studio with an immersive green screen, three HD cameras, a full studio lighting kit, and many other tools. The Production Studio can be reserved in 25Live after a brief training session with the Digital Knowledge Center.
Digital Knowledge Center #
The Digital Knowledge Center provides UMW students with peer support on digital projects. DKC consultants help students learn to build websites, edit videos, record podcasts, or design graphics (and much more) via virtual or in-person consultations and presentations to UMW classes. Students can book appointments through EAB.
HCC Equipment Checkout #
The Info Desk at the Hurley Convergence Center offers free loans of cameras (both video and photo), audio recorders, wireless lapel microphones, tripods, laptops, and more. See the full list on HCC's Equipment Checkout Page.
HCC Multimedia Lab and Vocal Booth #
The HCC Multimedia Lab, located on the first floor of the HCC, is accessible 24 hours by swiping your EagleOne card at the door. It includes several dual-screen iMacs with Adobe Premiere, Final Cut Pro, and Logic, as well as a sound-dampening vocal both with a built-in microphone and camera. You can reserve the vocal booth in 25Live.
Incubator Lab #
The Incubator Lab is an experimental space sponsored by the Digital Knowledge Center. Located on the 4th floor of the HCC, the IncLab offers several computer stations (including two Microsoft Surface Studios) where students can work with immediate access to DKC consultants who can provide assistance and answer any questions.
Reviewed by Anastasia Zanyuk 06/01/22